POOL CLEANING & VALET
Pool Cleaning, Maintenance & Valet Service
With our thorough pool cleaning and maintenance programmes, you can relax knowing that your swimming pool is being professionally managed and is 100% safe and sparkling clean. The Pool Man provides pool cleaning services throughout Auckland offering a full cleaning, maintenance and pool valet service for all types of swimming and spa pools.
Our Auckland pool cleaning service includes both one-off cleans and regular pool maintenance programmes. We can also restore the greenest pool to crystal clean.
Regular Pool Cleaning Service
It takes regular maintenance to keep your swimming pool clean and safe to swim in – but not everyone has the time to spare. That's why our pool maintenance and valet service is the perfect answer to a clean pool.
We will tailor a regular pool maintenance service for your swimming pool. A regular maintenance programme can be weekly, fortnightly or four-weekly.
Each time one of our pool technicians visit, they will give your pool a water health check and determine on the correct chemicals or cleaning programme for your pool. No more bacteria or algae; just clean sparkling water you can be sure is safe to swim in and looks great.
We also take care of larger pools such as commercial and school swimming pool cleaning and maintenance.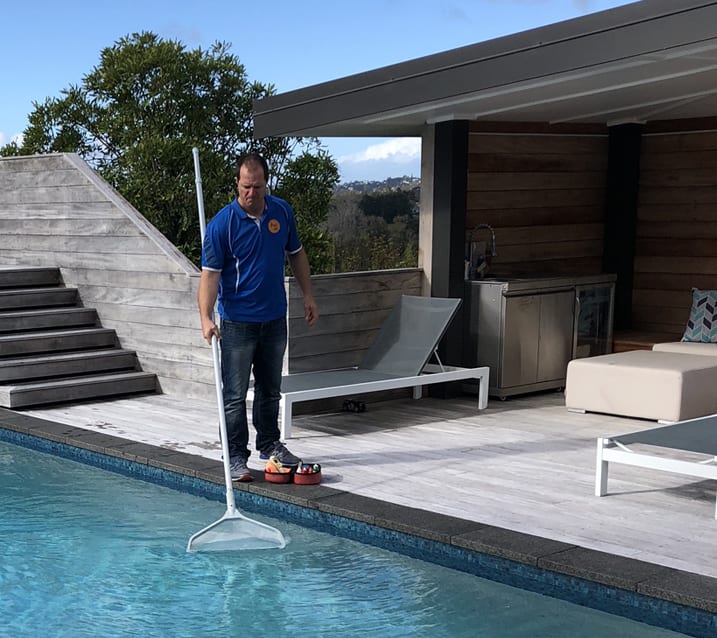 Pool Valet Services Include
Debris removal (vacuum / brush / scoop)
Clean covers
Clean baskets
Filters backwashed and cleaned
A water level check, including a check for swimming pool or spa pool leaks
A water/chemical balance check and adjustment
Forewarning of any up-coming maintenance issues
We carry our own chemicals (no need to store any at your place), we use our own cleaning equipment, and we send you an email report after each service.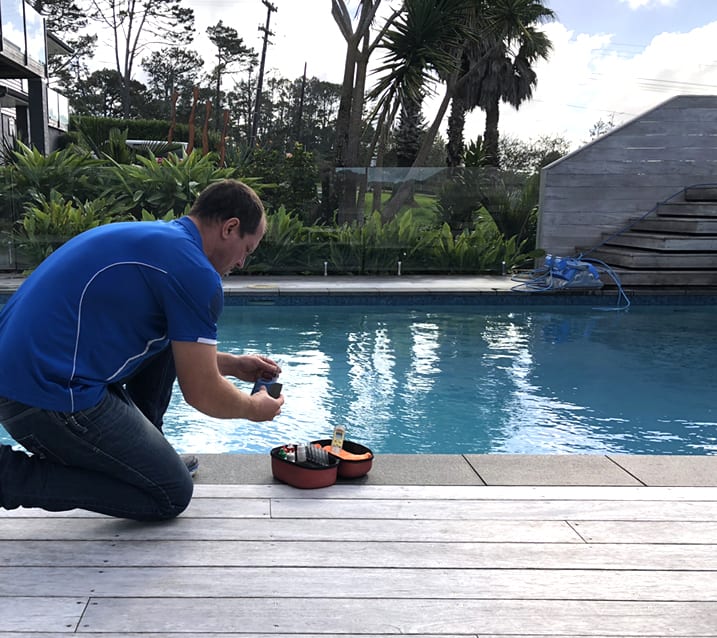 Green Pool Recovery Service
As each summer approaches, one of the most common phone calls we receive is, "my swimming pool has gone green." Don't worry, we will have it crystal clear again in no time.
Most people neglect their pool during the colder months only to discover the water has turned green. Once a pool has turned green, it can be difficult to bring back. It can also cause equipment clogging or failure. That's when you need to call The Poolman – we may be able to restore your pool in just a few visits.
One of our pool technicians will inspect your pool to determine if a green pool treatment is possible or whether a full drain and clean is required. If the water can be recovered, we will add the necessary chemicals to kill the live algae and bacteria. We will later return to remove the dead sunken algae and clean out any other debris. Then, following a thorough clean, the water will be tested and additional products used to ensure your pool is safe for swimming again.